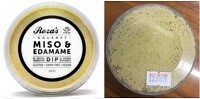 Roza's Gourmet is conducting a recall of Miso & Edamame Dip, 160g.
Date markings: Best Before: up to and including 23 JUNE 2019
Distribution: The recalled product has been available for sale in Independent stores (including IGA and Harris Farm) in the ACT, New South Wales, Victoria, Queensland and Tasmania, and select grocers in Hong Kong.
Problem: A processing issue has been identified which may potentially lead to a risk of Listeria monocytogenes contamination.
Food safety hazard: Listeria monocytogenes may cause illness in pregnant women and their unborn babies, the elderly and people with low immune systems.
Country of origin: Australia
What to do: This product should not be consumed and should be returned to the place of purchase for a full refund. Any consumers concerned about their health should seek medical advice.
For further information please contact:
1800 259 769
Note: This information has been reproduced with permission from Food Standards Australia New Zealand (FSANZ)