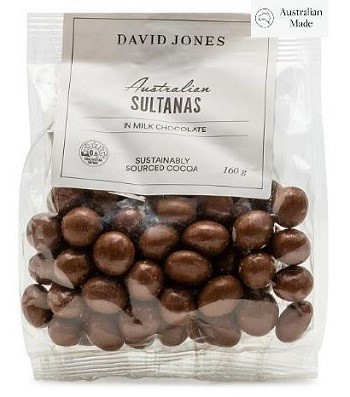 David Jones is conducting a recall of David Jones Australian Sultanas in Milk Chocolate 160g.
Distribution: The product has been available for sale at all David Jones stores nationally and select BP-David Jones stores in NSW and VIC.
Date markings: Best Before: 18 Dec 2020
Problem: The recall is due to the presence of an undeclared allergen (Peanut).
Food safety hazard: Any consumers who have a peanut allergy or intolerance may have a reaction if the product is consumed.
Country of origin: Australia
What to do: Consumers who have a peanut allergy or intolerance should not consume this product. Customers should return the product to the place of purchase or any David Jones Store for a full cash refund.
For further information please contact:
David Jones Customer Services by calling 1800 354 663 or emailing www.davidjones.com.au/Contact-Us
Note: This information has been reproduced with permission from Food Standards Australia New Zealand (FSANZ)