Queensland's food production industry is a vital part of Australia's economy. Those that produce food in Queensland all feed into a national food supply system – one that is trusted by Australians and our international trading partners.
As such, those that produce or process red meat, poultry, eggs, dairy, seafood and horticulture (seed sprouts) in Queensland must be accredited with Safe Food Production Queensland (Safe Food).
An accreditation with Safe Food ensures that these food businesses are independently verified as operating in accordance with food safety legislation and that they understand the food safety risks associated with the foods that they produce – and how to manage them.
A Safe Food accreditation also ensures that a food business has adequate checks and balances in place to protect public health. This includes:
Operating from a site that is suitable for the production of food;

Following a regular cleaning and sanitation schedule;

Ensuring staff have adequate skills and knowledge in food safety;

Maintaining accurate records to allow for product traceability; and

Notifying Safe Food if they become aware of an issue that may impact food safety.
Why Food Traceability Matters
Traceability ensures that food can be tracked at least one step forward and one step back from all points throughout the supply chain. For example:
your local butcher keeps records of where meat and supplies have been sourced from and sold onto;

the stamp on your eggs provides a unique identifier of the farm that it was produced on; and

a cheese manufacturer keeps records of who they supply to (e.g. cafes and restaurants).
The ability to trace food through all stages of production, processing and distribution is important to food businesses, and consumers as well.
Not only does it assist consumers in finding out where their food is produced and made, but in the event of a food safety incident or recall, an effective traceability system can help isolate and prevent contaminated products from reaching consumers.
Everyone Plays a Role in Food Safety
Most primary producers and processors in Queensland understand the need for a consistent and integrated regulatory approach to food safety. After all, there's a lot at risk to Queensland's economy if something goes wrong!
According to AgTrends, a report generated by the Department of Agriculture and Fisheries, the value of agriculture and the food supply chain in Queensland in 2016-17 was $24.7 billion, with around 12% of Queensland's workforce being directly employed by this sector.
Livestock, such as cattle, pigs and sheep, contribute on average $5.55 billion in gross value of production (GVP) to Queensland's economy. Poultry contributes $592 million in GVP, and milk, seafood and eggs contribute $236 million, $277 million and $214 million in GVP respectively. *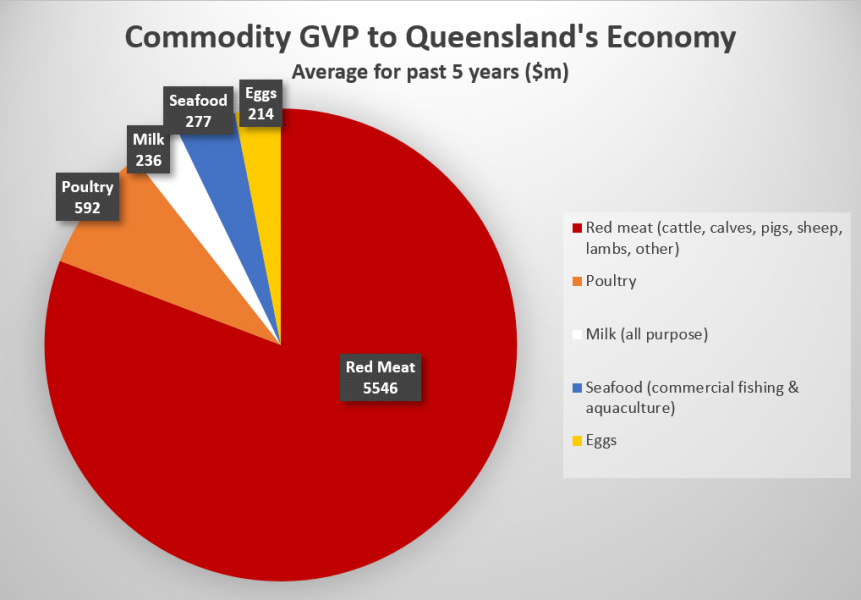 *AgTrends Update April 2019, average GVP for past 5 years
It's important that everyone involved in the production and processing of these commodities upholds their commitment to food safety and protects Queensland's agricultural industry.
This includes being accredited with Safe Food and meeting their legislative requirements under the Food Production (Safety) Act 2000 and Food Production (Safety) Regulation 2014.
If an individual or business is operating without an accreditation, then they may be operating illegally.
Some of the most common activities we hear about that may require an accreditation include:
Selling meat (including pet meat) to the general public

Supplying unstamped eggs into the marketplace (e.g. at farmers markets)

Supplying meat/eggs/seafood/sprouts/dairy produce to retail establishments (e.g. bars & restaurants)
How Do I Know If Someone is Accredited with Safe Food?
To verify if you are buying from an accredited supplier:
Ask to see their Safe Food accreditation certificate for this year. We issue a new one at the start of every year to accredited businesses.

Ask for their Safe Food accreditation number and search for it on our Accreditation register. This online register helps verify that the individual or business holds a current Safe Food accreditation.
If you suspect that an individual or business may be operating without an accreditation, please notify us by calling 1800 300 815 or completing this online form. All complaints are treated anonymously and will be followed up.

Search for a Safe Food accreditation number on our register 
Who is Safe Food?
Safe Food is the state regulator for the production and processing of meat, eggs, dairy, seafood and horticulture in Queensland. We work with other government agencies, such as the Department of Agriculture and Fisheries and Queensland Health, to monitor food safety and respond to food safety incidents.
Our role is to ensure that:
Queensland's food production systems meet national food safety standards

Businesses along the food supply chain know and understand their responsibilities

Potential threats to the integrity of food supply are identified and dealt with decisively

Consumers maintain their confidence in the food produced in Queensland.
We have been operating in the important but challenging environment of managing food safety risk since 2000. Collectively, we have hundreds of years of experience in dealing first-hand with the business of food, including the people, processes and products, and how these elements fit together to make food safe.